If you're looking for a plugin to redirect your posts or pages, or simply want to learn more about redirection in general, this post is for you. Today, we'll talk about why redirection is necessary at times and introduce you to the best plugin for the job.
All of us encounter circumstances when we must redirect a post or a page on our WordPress blog or website sooner or later. Knowing how to do it and when you should do it will help you better understand how your site functions while also educating you on how to improve your SEO and become more prominent online.
Why are redirects beneficial?
We've all been browsing around looking for a specific article and a product, and once we opened the website, all we saw was the dreaded "404 page not found." This is called a broken link, and they are very bad for your site overall. Broken links like that, especially if there are several of them, are detrimental to SEO since they inform Google that there is a problem with the site. In addition to being a poor UX practice, broken links cause more visitors to abandon the site, increasing bounce rates. Therefore, it's advised to fix broken links in these and similar situations, and you can accomplish that with a WordPress redirection plugin.
WP 301 Redirects
WordPress offers a ton of features that help you create a stunning website, but there are also plenty of specialized plugins that deal with maintenance and technical aspects – these should never be overlooked. WP 301 Redirects is so feature-rich that you'll never have to look for another redirection plugin. These features are intended to address the frequently disregarded SEO problems caused by dead links and link redirection.
Every website that aspires to quality and a positive user experience should use a redirection plugin for this reason, and WP 301 Redirect looks to be one of the most complete options available. So, let's delve deeper and see what all the fuss is about.
Starting Out (Installation)
To start off, you'll have to enter your license key to access the setup wizard after downloading the plugin. To make sure you have the right PHP version, the plugin will automatically run a number of tests. The remaining steps are very simple; however, step two of the installation wizard has an intriguing feature. You can use it to enable 404 error automated redirects. What does this imply, exactly? When someone types in one of your URLs incorrectly, the plugin will essentially attempt to guess the correct page if you select this option in the wizard so that even if they make a mistake, they still end up where they intended to be.
No More 404s
404 dead links are the one thing that website visitors detest the most. It can be quite frustrating to intentionally click a link that leads to an empty, abandoned website. However, dead links can be quickly fixed and sent to fresh, functional pages using WP 301 Redirects. When you run a blog online, you have to keep your information up to date, and if you're making annual lists, you also have to regularly provide new content. However, since some users still access older reviews, adding a redirect to the more recent information could help you increase traffic.
Full Control Over Your Links
Affiliate links can often be way too long and unappealing to the end-user. More often than not, when a user encounters such a link, they'll automatically think you're trying to sell them something and click off. But, there's a better way to do it. With WP 301 Redirects, you can tidy up all of your affiliate links and significantly increase the number of visitors to your website. All of the links will be shortened and tidy.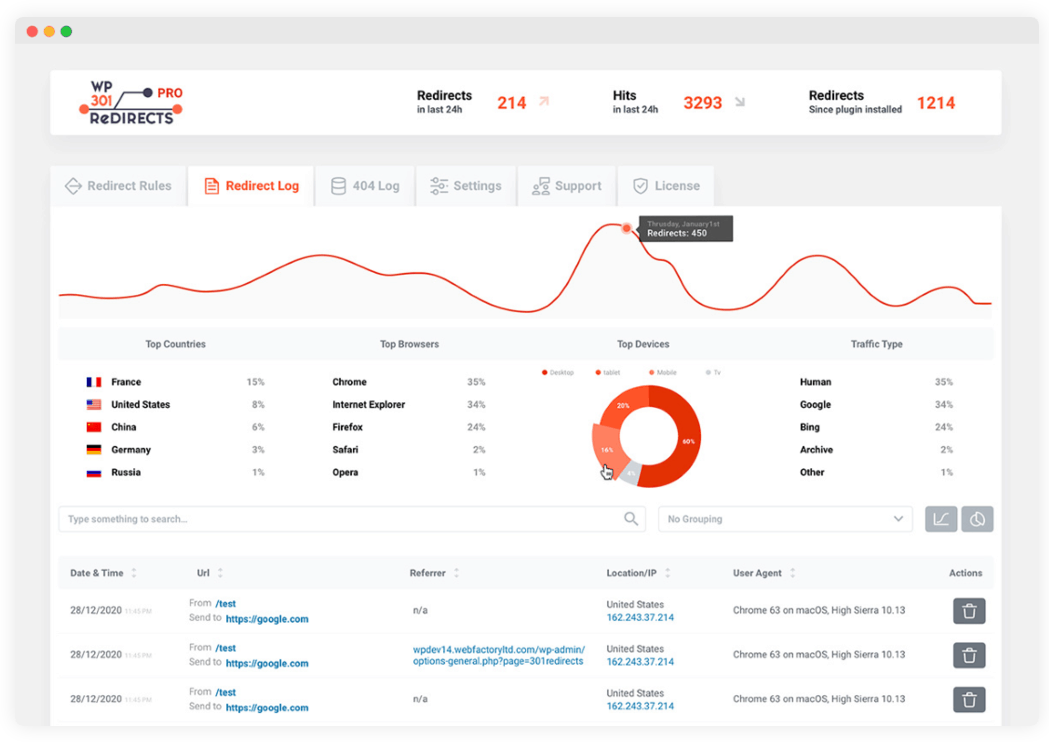 Link Scanner
The Link Scanner deserves some attention even though many of the features we've discussed so far are very beneficial and greatly exceed the range of your standard redirection plugin. The link scanner will check all of your websites and links and come up with a thorough analysis of any problematic ones.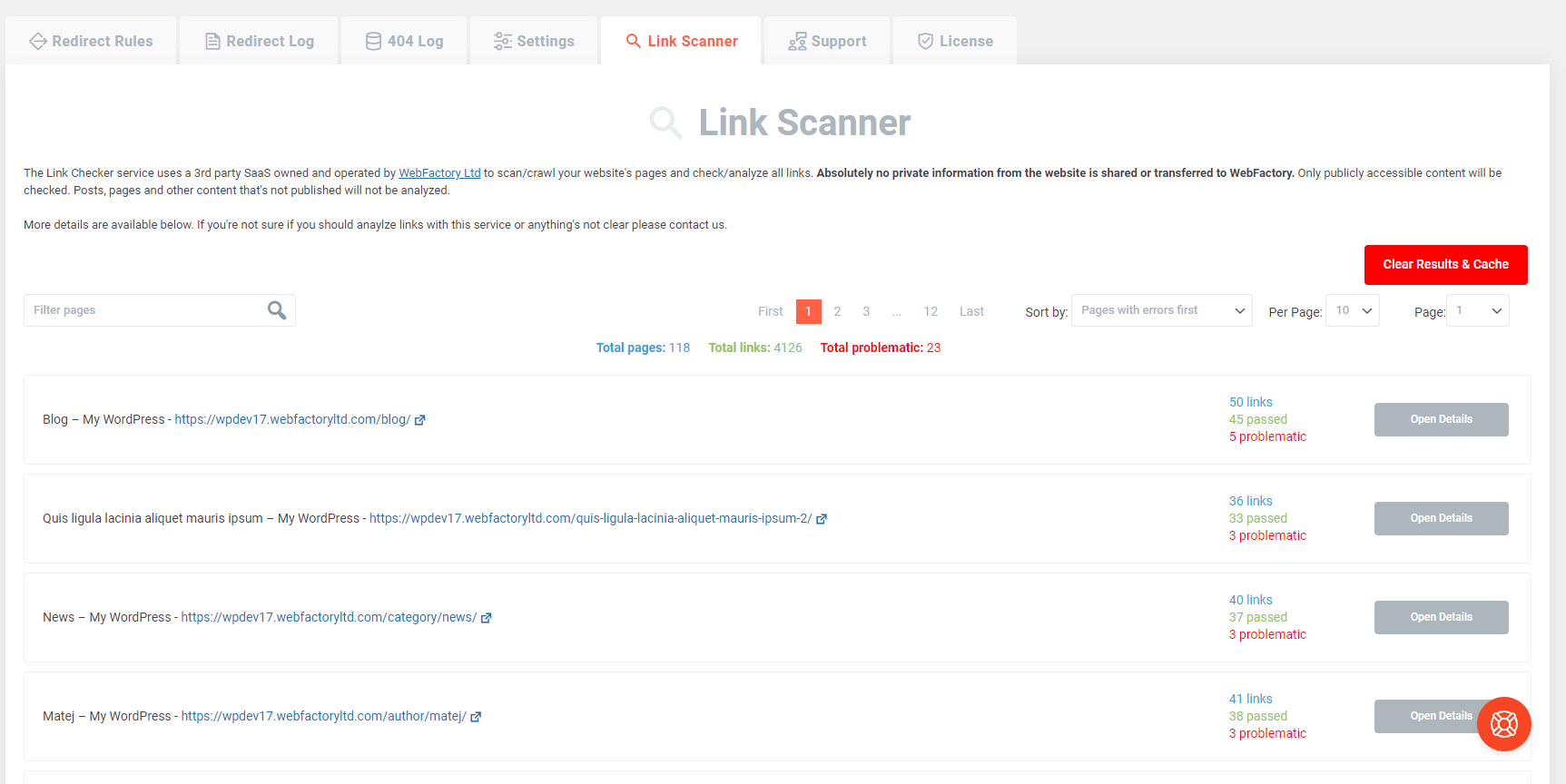 The entire site will only be scanned in a few minutes, and while it is running in the background, you are free to do anything. When the scan is done, you'll get a thorough summary of every page, including the number of links it contains and how many of them are good, and how many were poor. Once you scroll through the report, all you have to do is decide whether to relocate, remove, or redirect the link.
Ease of use and monitoring
Even if WordPress is the greatest website builder available right now, installing some of its many plugins and addons is not always a good idea. Unfortunately, this causes bloat and slows down your website. Because of this, WP 301 Redirects made the decision to shorten the monitoring procedure by adding a dashboard right away that allows you to keep an eye on the performance of your site.
You can avoid putting extraneous analytical tools on your website that would merely take up space and slow it down. It is impossible to overstate the value of a unified dashboard. Having all the data you want in one place makes it easier for you to plan your next move. If the data were scattered over different tabs, it would be necessary for you to remember everything, which leaves room for error.