During the modern world era, e-commerce has proven to be a successful and consistent supplier. It is ideal because more and more people like to acquire products they want or need from the comforts of their own residences. Organizations capable of providing excellent customer service outside their locations and launching an e-commerce website and shop will have a lot more benefits.
Because of that WooCommerce Order Export will become an essential plugin for any e-commerce shop. The WooCommerce Order Pro plugin brings a variety of extra features that can help users to enhance and improve their e-commerce shop even further.
WooCommerce Order Export
The WooCommerce Export Order plugin was created exclusively for WordPress, allowing it to flow as smoothly as butter. It became developed and produced with a specific purpose. Therefore, the main goal is to get there as fast and effectively as possible. Export all your customer orders and data from WooCommerce in just a few seconds.
It may appear to be a lot of preparation and work at a first impression. But you will simplify managing your and customers' money, orders, and business. This post will provide an overview of WooCommerce Order Export. That being said, we will go through a few wonderful benefits and features that come with this plugin down underneath.
Scheduled exports
WooCommerce has a feature that will allow you to organize, plan and schedule your exports. Users may easily configure WooCommerce to export their transactions on the selected date, region, as well as timing. You may add as many schedules as you want here and give them unique names to make them simpler to recognize.
You can also choose a different time and date for exporting. If you are worried that you will not get something done, you can easily prepare everything and set up automatic exporters who will do all the work for you so that you can focus on something else.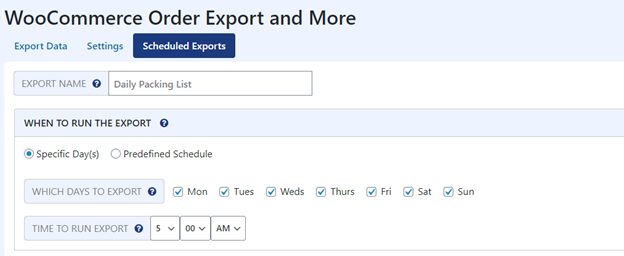 Export field list
As you can see in the image above, this plugin will provide you with a plethora of customization choices. As a result, when you name them, you will not lose anything, and you will still be able to add crucial information for a specific region.
Export filter
Another fantastic feature of WooCommerce Export Orders is the use of filters and filtering. Because of that, you will benefit from data filtration. It may seem like something that should not stand out at first, but you will be surprised at how useful this feature is.
The plugin will allow you and your customers to use categories, attributes, object Identification numbers, and prices to filter transactions, items, and discounts. You may modify and reorganize the filters by dragging and dropping them. The nicest part is that you are free to apply as many filters as you desire.

Main export screen
There are a couple more excellent features available on your main screen. Data Ranges is one of them.
Users may utilize Date Ranges to specify the time period for WooCommerce export orders. Select Range may be found in the Data Ranges category. These users may choose whichever time window they wish for processing their orders with Select Range. Predefined Ranges are also available in Data Rangers.
They will allow you to view orders from today, yesterday, this week, or the week after, among other options. This feature is useful since it shows only the exporting order reports you want to see instead of the entire collection. Therefore, as a reward, your search will be more straightforward and productive.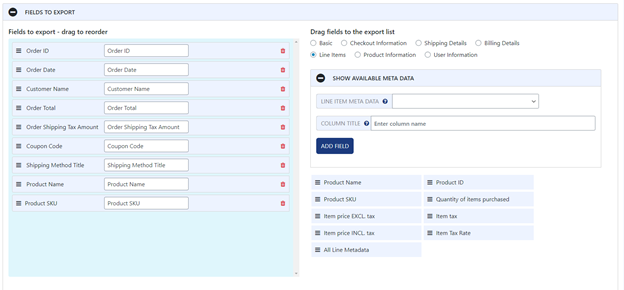 The preview button will become one of the most interesting features you will use within this plugin. Using this form of review, you can review the taste of these exported files throughout their version. The great thing about this is that you can use this Preview button at any time.
With it, you can analyze and review how much you have achieved, as well as what your data will look like when you actually export it before you decide to do it.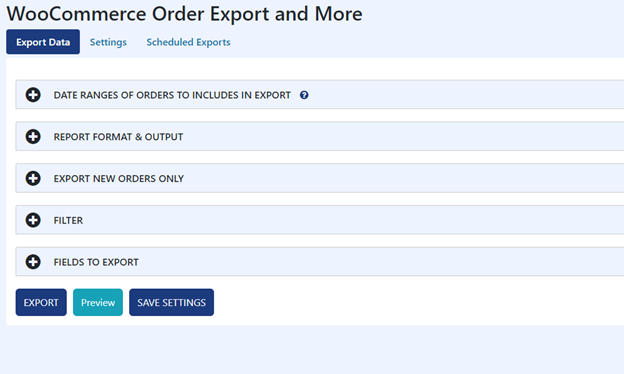 Conclusion
You have come to the right location if you need to instantly construct data samples or any other sort of data. You will have everything you could want to do with this plugin. The only thing left for you to do now is to give it a go. Only in this approach will you be able to determine whether or not this plugin is suitable for you.
You will have unlimited access to everything, and you will not even need to know how to code. However, there is always the possibility that you will dislike this plugin. You do not have to be concerned because the purchase comes with a money-back guarantee. So, what exactly are you waiting for? Hopefully, soon you will try out this awesome plugin.