Have you ever reached a stage in the development of a website when the only answer is to terminate the entire code and start over? You are not the only one! Perhaps you have completed the development process, tested everything, and are now ready to deploy it, or your present website has become sluggish and unreliable, or it is subject to DDoS assaults… There are several reasons why you should read this article all the way to the end in order to find the one answer to all of your problems.
When you've reached the point when there's no turning back, WP Reset is a quick fix! It is jam-packed with essential features that will benefit you in a variety of ways.
Dashboard
To properly introduce you, we'll begin with the plugin's dashboard. Everything is how it should be – neat and tidy, easily accessible, and simple! Every important section is at your fingertips, from controlling all of your purchases, licenses, sites, collections, snapshots (which will be covered momentarily), and more; everything can be controlled from this location, isn't that great?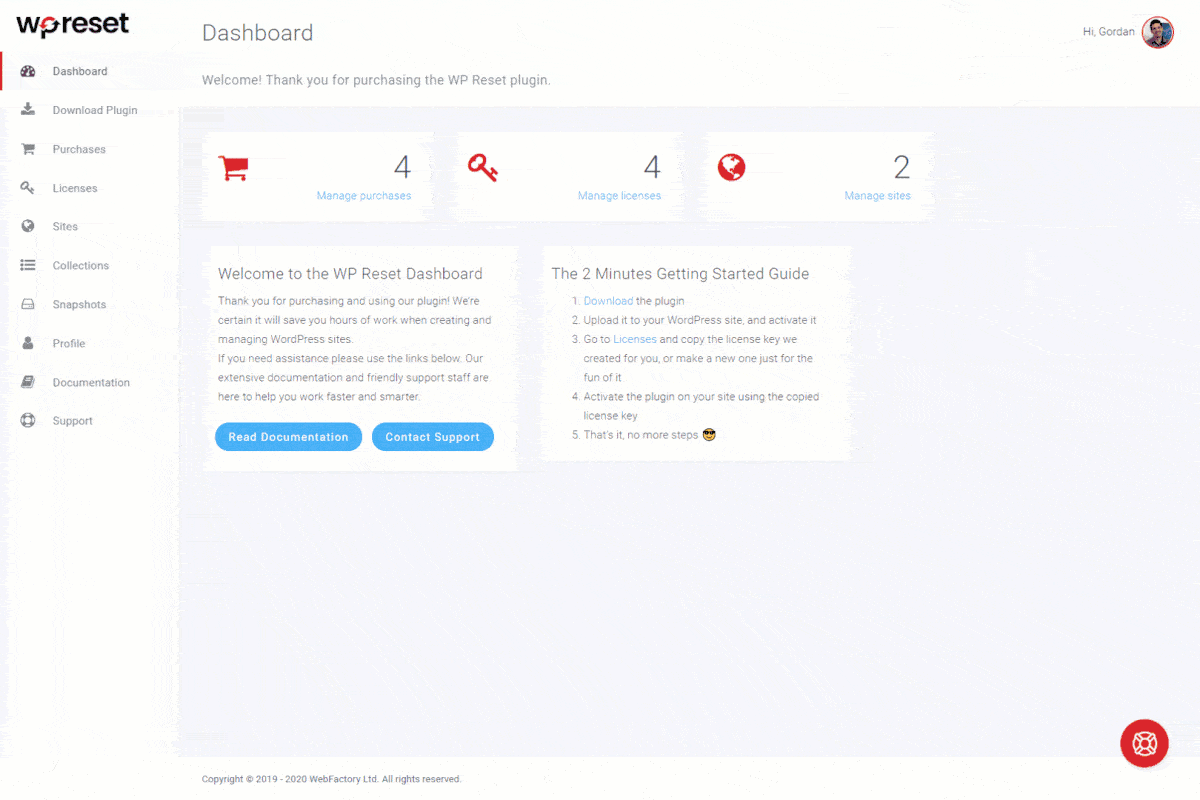 Reset options
The key feature that distinguishes this plugin is the reset options available. The options are Full (Site) reset, partial reset, and options reset.
Full (Site) Reset
The most lethal option you can go for is Full (Site) Reset! When choosing this one, the plugin will be instructed to delete all the data from your website that has ever existed – all your articles you published, all your pages, widgets, database tables, interactions with the clients, and users will vanish once and for all!
However, your imagery including pictures, videos, graphics, and other media will be affected but not deleted, just relocated to another folder so you can use them again.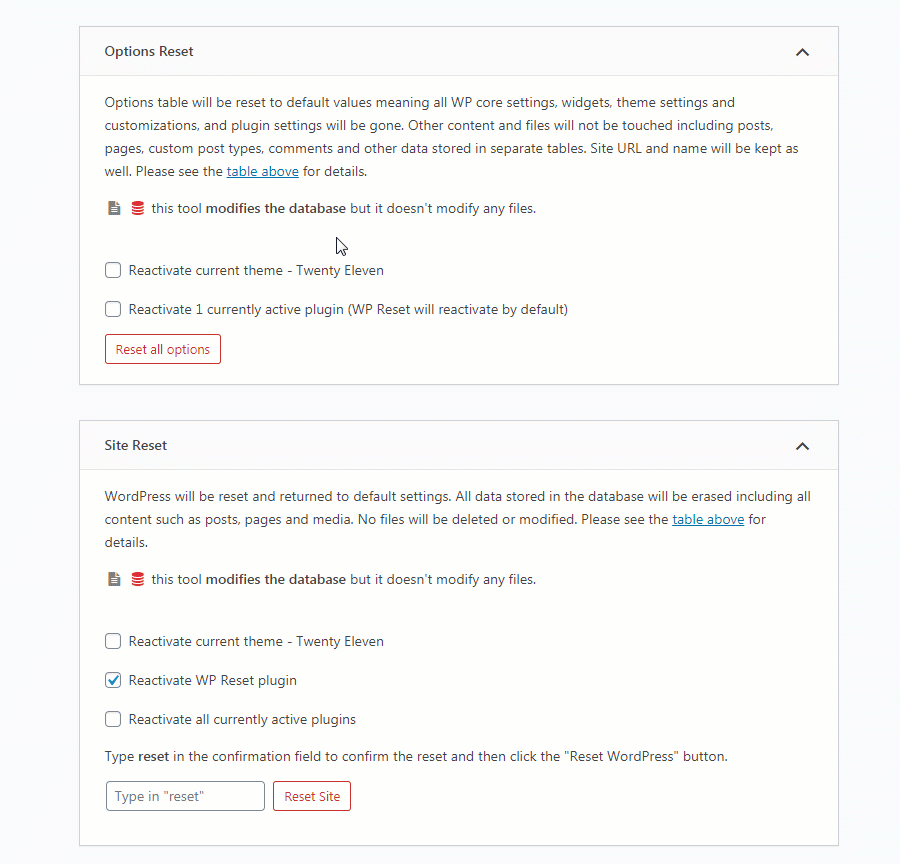 After the plugin did its job, your website will now be blank and ready for development! Now you will have to set some technicalities such as what theme would you like to be active (default or current), what plugins should be activated upon starting, and should the WP Reset plugin be active as well, or not.
If you decide to just partially reset your website, you can do that by triggering the partial reset option that will reset just the specific page you choose, and remove the data from there without affecting other pages and their content. The whole website apart from that specific page will remain intact. To be more precise, you can choose to get rid of some theme configuration, for example, or data from the database…
Nuclear Reset
As its name implies, this does not leave anything alive on your website! No matter the type of data, it will remove them as if they didn't exist! When the previously mentioned Full Reset fails, Nuclear Reset will definitely do the job. It will erase all your posts, pages, widgets, entries, users, databases, imagery… literally everything! After this one, you will be taken back to the very beginning as if you create the webpage from that moment! It will leave you with the basic data such as your username, login data, and default settings so you can start over.
Because of its fatality and what damage it can cause, you should explore other options before choosing this one as there is no undo button to take you back if you change your mind! Think carefully, this is not to play with. All your hard work will be gone in minutes!
Options Reset
The least painful option is definitely this one! Options Reset will take your fundamental WordPress options to their default state without affecting sensitive data like the previous two. This one comes in handy when you start breaking your head and searching for the problem unsuccessfully. Save your time and nerves, pick this one and reset your options that may be the problem.
All the widgets parameters, WordPress settings, themes settings, and plugins will be returned to the initial condition. After performing this type of reset, you will have to choose what theme should be displayed – the current one or the default one, and should the plugin reactivate all the plugins alone or it will leave it up to you.
Selective Reset
WP Reset is a sophisticated plugin with a bunch of great reliefs and life savers. This one is no different. What you can do with this feature is to choose which parts and settings of your website should be affected.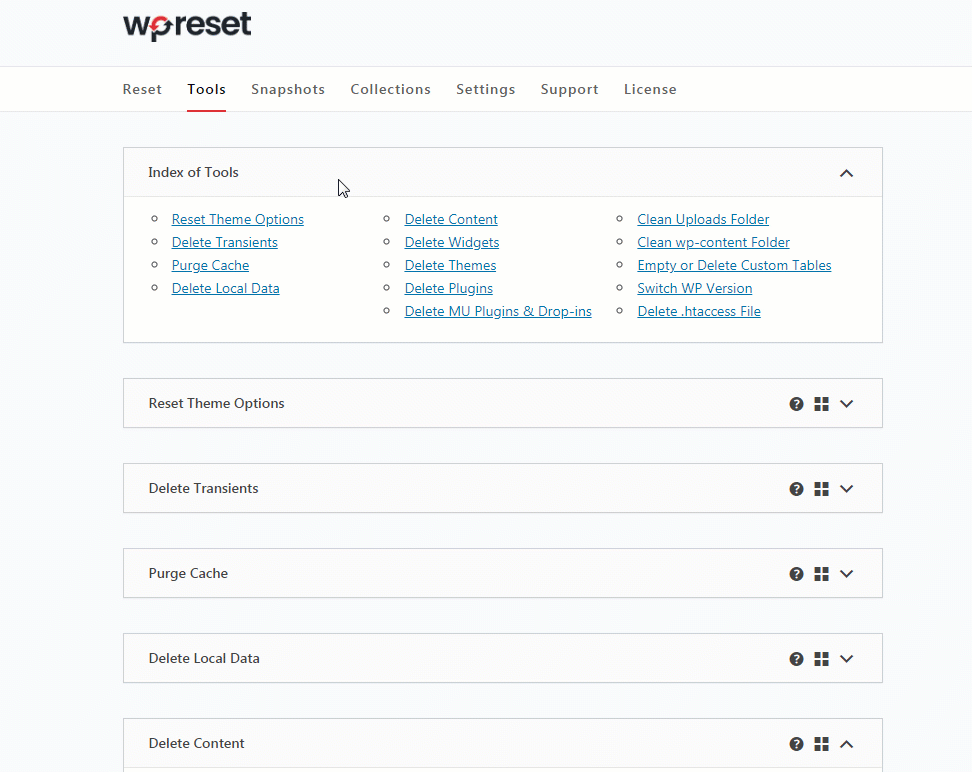 For example, you can choose to reset theme options, delete transients, reset the webpage cache, delete its local data, reset user roles, delete whole content, widgets, themes, and plugins, clean different kinds of folders, empty the tables, and more!
Snapshots
When you launch the plugin, there is no turning back! That is why WP Reset has a fantastic feature called Snapshots. Snapshots serve as a kind of backup and will save you from unnecessary stress.
It is recommended that whenever you make modifications to your website, you create a snapshot to protect yourself from unfortunate events. Whatever you do, always create it before making any changes so that if something goes wrong, you can always activate the previous snapshot and return to the previous settings.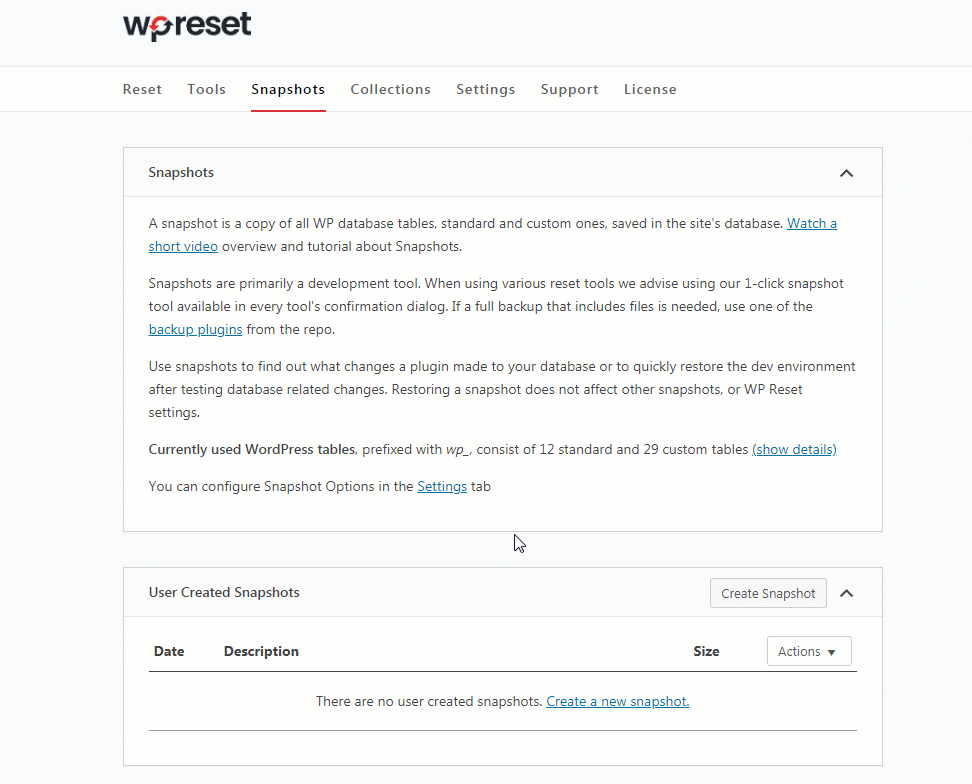 You can also enable automated snapshots, which allows the plugin to take them in the background anytime it detects changes to the webpage. The snapshots may well be securely saved to the WP Reset Cloud, Dropbox, or Google Drive.
Collections
WP Reset has shown how great a plugin it is with the Snapshot feature, but with this one, it went even further! The Collections feature lets you create your own, personalized collection of settings, themes, widgets, or plugins you use the most in your everyday business. This comes extremely helpful when you reset the page and instead of remembering all these things, you simply activate one of your collections and in one click you have all your favorite things all together again! And this is not all.
You can create different kinds of collections for as many websites you manage so you can sort the things by where you use them. Madness!
Final Words
You will eventually one day experience this dreadful feeling when your hands are tied and you must start over. WP Reset will take all your difficulties away and in the best way possible help you to overcome these problems in order to have the most pleasant time managing a website. Strongly recommended!