If you're an author you know how important it is to have a good author bio. An author bio serves two purposes: it rewards the author and also serves for future references because it has all the important information in one place. In this article, we are going to talk about the best author bio plugins for WordPress.
Simple Author Box
The first plugin on our list is Simple Author Box. This plugin allows you to create an author box anywhere on your site and with that author box comes the author name, gravatar, description, and many other useful things. The first feature worth mentioning is guest authors and multiple authors. This means that if you use this feature you will be able to assign posts to guest authors as well as reward all the multiple authors that were working on the same post.
When it comes to the Author Box with Multiple Authors, Simple Author Box cares about rewarding everyone and if there were multiple authors on the same post, you can easily add them by selecting an author or generating a shortcode.
No one will be left out while using this plugin. It is important to mention that the author box you are able to create with this plugin is completely customizable and you can change it to your liking. This means that not only can you change the color scheme of the author box and put the colors you want but you can also use WP Author Box Gutenberg Block and edit your author box fully to your taste.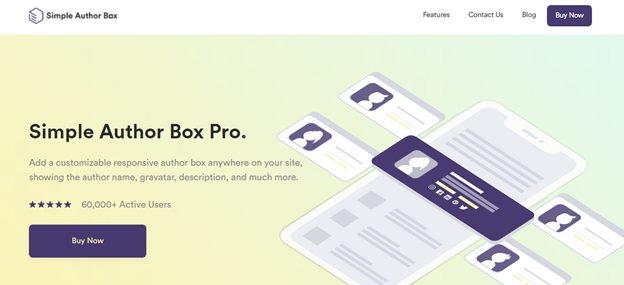 You also have full control of typography and you can change the font and size however you want. With Simple Author Box, everything is in your hands and under your control. For example, if you want to make a Simple & Clean Author Box with a Custom Background Image that only shows the author's image, name, and a short description with a few social media handles linked you can easily do that with this plugin. If you're more of a minimalistic kind of guy, you can choose the Minimalistic Template where you won't use any background images. Everything is possible with Simple Author Box!
Molongui Authorship
When it comes to this plugin, Molongui is also full of useful features to help make your job easier. The first feature that comes into mind is creating a fully responsive and customizable author box where you can credit all the authors or one-time contributors. You can easily credit co-authors and multiple authors so no one will be left out or not credited for their work.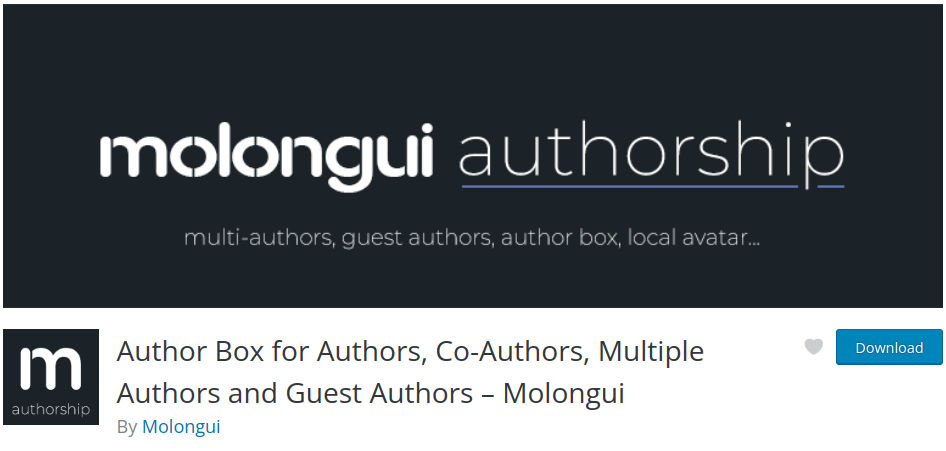 Your author boxes are fully customizable and you don't need any coding skills to make them look good or to work. You can change their position and put them where it is the most convenient for you, change their style, color, size, and text completely to your liking. In your author box, you can also add additional profile fields and into them add a custom avatar, job position, company, phone, and many other things.
When it comes to the guest authors and co-authors, they will be displayed in existing post bylines whereas other plugins might ignore post bylines, this plugin will not! Among everything already mentioned, Molongui is SEO friendly as well which is one more reason to start working with it!
Starbox
Now we are moving on to the third plugin which says that it is an author box for humans. Starbox is a WordPress plugin that will allow you to make gorgeous author boxes so that "humans" will want to look at them and click all the way through to read everything about the authors. You can make your author boxes in any type of style and theme you want because Starbox has got you covered in any department.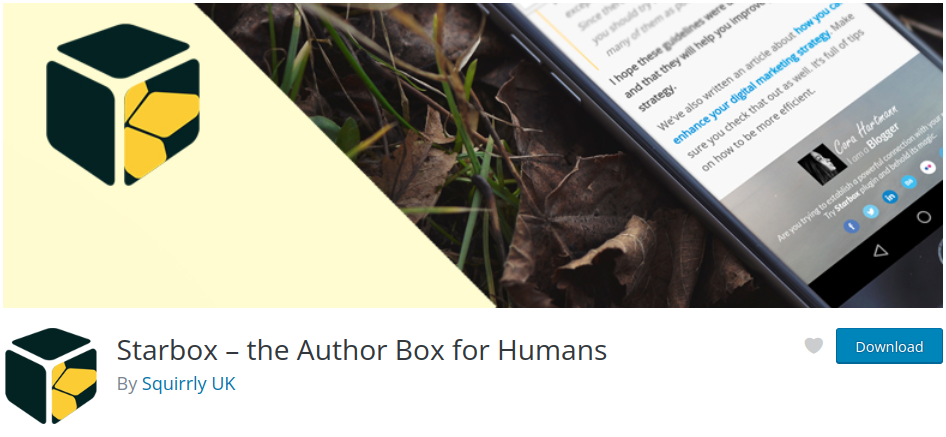 You don't need any extra knowledge to set up the author box because it doesn't require any coding or any different type of knowledge to get the job done. When it comes to additional features, social media profiles can be easily linked and found because Starbox wants you to be well-connected. With this plugin, you don't need a gravatar because it allows you to upload your own image. Starbox believes that their authors will soon become stars and if you use Starbox that might as well happen for you!
Author Box by Nocksoft
The next plugin on our list is Author Box by Nocksoft. With this plugin, you can add an author box at the end of your posts and you can customize it to make it modern. Every bit of important information will be mentioned inside of your author info at the end of your post and all of your local authors will be rewarded. You can also focus on your posts and display an author box bio at the end of your posts so every reader will know exactly who you are.
This way you can easily showcase your personality and make the readers get a sense of you as a person which can only drag them further in and make your blogs and posts more popular. You also have a feature that allows you to make a shortcode for your Author Box so you can choose to put it anywhere you want and anywhere it looks good to you. Full control is possible with Author Box by Nocksoft.
Ultimate Author Box Lite
Ultimate Author Box Lite is a free WordPress plugin designed for adding information about the authors in your posts, page, and custom post type. You can set it up to be a default option or set it through a shortcode. With this plugin, you also get a templates pack which means that you get a set of templates to choose from. You can choose to change the colors of your templates because you will also get a custom color scheme for them.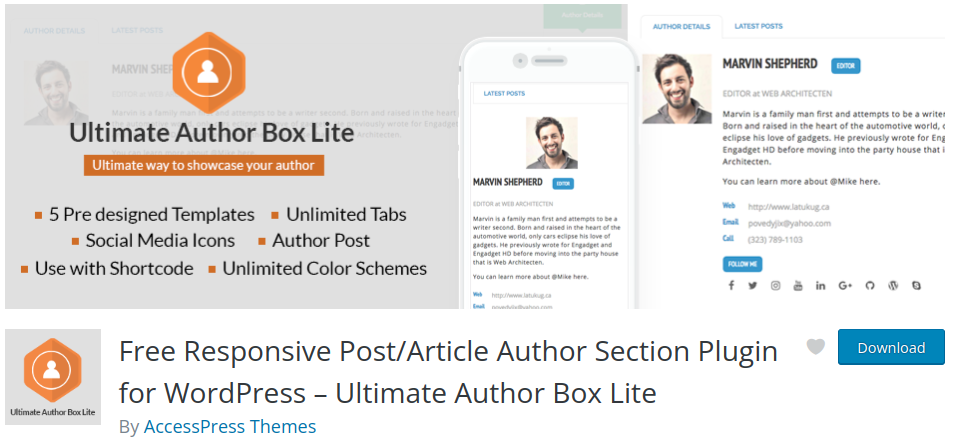 There are also Authors' Social Profiles which means that you can choose from 10 social icons to add. If some authors do not have a biographical bio you can disable the author box for them or set a default message. You can also disable the author box for certain user roles, not just for authors that do not have a biographical bio. It is fully responsive which means that you can use it with anything, even your mobile phone. Also, important to mention, that it is user-friendly and anyone can get their hands on it. This plugin never seizes to impress!
Conclusion
In this article, we have talked about the best author bio plugins for WordPress. We have made a list of the best ones and have mentioned 5 of them. If we were going to set one aside and mention it as the best one of the bunch, it would have to be Simple Author Box. This plugin is simple, easy, and effective. It comes with many features to fit any possible need and makes sure that every author is rewarded, either even being the guest author or one of the multiple authors. Make good author bios today!